The Things Network
The Things Network (TTN) is a global, crowdsourced data network for the Internet of Things (IoT). No contract is required to connect devices to the network and there are no usage charges.
How does it work?
LoRaWAN Low-Power Wide-Area Network (LPWAN) technology is used to deliver The Things Network. This is able to achieve an impressive range of up to 15km line-of-sight, with devices that consume so little power that they might have a battery life of up to 10 years.
Since it uses licence-exempt wireless spectrum, anyone can set up an Internet connected LoRaWAN gateway (base station) and join this to The Things Network in order to extend its coverage.
Thanks to the excellent efficiency of the LoRaWAN system, gateways consume about as much energy as a wireless router. Since only very small amounts of data are sent across TTN, a gateway has very little impact on the broadband service it is connected to.
What can it be used for?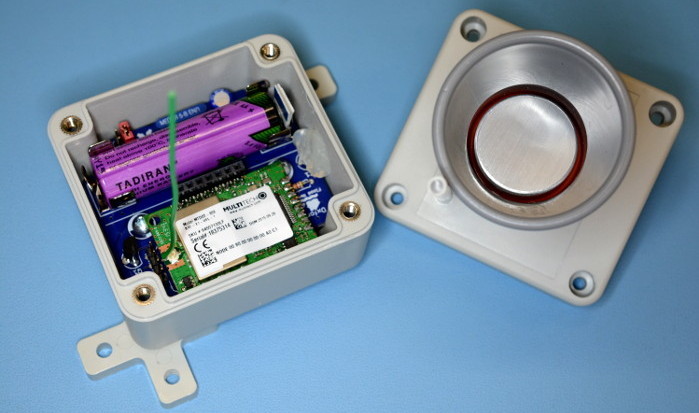 A LoRaWAN river level sensor from Flood Network
The Things Network — and LoRaWAN in general — is suited to applications where devices need to periodically send and receive small amounts of data. For example, a few kilobytes every 10 or 20 minutes.
Typical use cases include:
Preventative maintenance
Environmental monitoring
Updating remote displays
Elderly care
Automation
Security
The Things Network Calderdale

View from the site of the LoRaWAN antenna installation at Hebble End Works
The Things Network is built by distributed communities, with each focused on delivering the network in a particular geographic area. Those interested in using and/or helping to deliver the network in Calderdale are invited to join The Things Network Calderdale Community.
Gateways
There are currently gateways located at:
Halifax
Luddendenfoot
Mixenden
Hebden Bridge
Heptonstall
The effective range of LoRaWAN is quoted as being 15km line-of-sight and 2km in dense urban areas, so coverage distances of somewhere in this range are to be expected — large hills permitting!
Offers to host additional gateways are always welcome, since they do not interfere with each other and the addition of gateways increases network resilience and capacity, as well as extending coverage.
Connecting
Devices connect via LoRaWAN to gateways, which in turn forward data to and from The Things Network servers.
Messages are exchanged between applications and TTN servers using MQTT, a publish/subscribe messaging protocol.
Quick links to documentation for connecting to the network:
Getting help
Help is available via The Things Network Calderdale Community forum